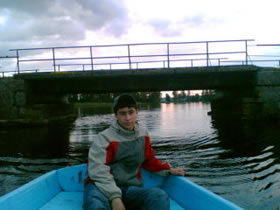 The family of Alesha Levantuev moved to St. Petersburg from Ulan-Ude (Southeastern Siberia) to treat his little sister's chronic kidney disease. A family of five lived in a studio apartment of Alesha's grandmother. In 2005, another disaster struck: 17-year-old Alesha was diagnosed with stage IV neuroblastoma that had spread to his bones and bone marrow. He was hospitalized, and his doctors started chemotherapy. In order to combat neutropenia, a potentially life-threatening side effect of chemo, they prescribed a drug called neupogen which was not available in the hospital at that time. Alesha's family's finances were already stretched thin: with Alesha's mom having to care for two seriously ill children, his dad's wages as a truck driver barely covered rent and food. At that time, the Helpjournal raised money to pay for neupogen for Alesha (total of $900). Alesha has undergone chemotherapy, autologous bone marrow transplant, surgery and radiation therapy to remove the tumor. Treatment was successful, and Alesha went into remission. In September 2007, he resumed his studies at St.Petersburg College of Economics and Finance.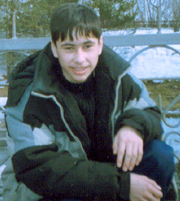 Cancer remained at bay for two years. In May 2009, Alesha's annual check-up revealed it has returned. He was admitted to the hospital and has undergone several rounds of chemotherapy. In October, his CT scan showed that Alesha succeeded in beating neuroblastoma for the second time. Unfortunately, in the end of October Alesha suddenly developed acute appendicitis and underwent urgent surgery. Infections can be deadly in the patients like Alesha, whose immune system is suppressed by intensive chemotherapy. Histological analysis of the removed appendix showed an extremely dangerous fungal infection of the intestines: zygomycosis.
Alesha's condition is extremely serious. For a moment his doctors all but lost hope for his recovery. But Alesha's condition stabilized, and on November 30 he had surgery to partially remove the affected parts of the intestines. In the nearest future, Alesha will likely need several more surgeries. In addition, he needs intensive therapy with anti-fungal medications, Noxafil and Ampholip, 5 vials a day of each. Those medications are expensive, totalling at just over $1300.00 daily, which is an impossible sum for his family to raise. The Help Journal has already provided enough money to cover costs of medication for one week. We need your support to continue helping Alesha. Please, give Alesha a chance to conquer his disease once and for all!
News
January 10, 2010. Alesha passed away today. His condition had been extremely serious for the last two months, and yet Alesha continued to fight despite the odds of recovery being very slim. Unfortunately, the fungal infection was too severe, and even the most advanced drugs and two surgeries could not combat it. The doctors fought for his life until the last day.
We are grateful to all people who helped Alesha when he first fell ill four years ago. Thanks in part to this help, he was able to spend several more years together with his family and friends and continue his education. And we thank everybody who helped him now, even when his chances were very slight. Everybody who knew this quiet young man will remember his kind attitude to people and his courageous struggle against the deadly disease.
December 4, 2009. Alesha is recovering after his surgery. He will need more surgeries in the nearest future to remove all the necrotic tissue in his intestines. Concurrently, Lesha urgently needs 5 vials a day of antibiotics Ampholip and Noxafil, at a total cost of $1300 per day.
November 29, 2009. Alesha is in critical condition now as his intestinal infection worsened. Tomorrow the doctors will attempt to remove nectrotic tissue from his intestines. Alesha may need expensive antibiotics Noxafil and Amfolip after the surgery.
November 3, 2009. Alesha is being treated with antibiotics for the intestinal infection. His condition is stable; however, he may need additional funds for treatment.
October 26, 2009. Alesha suddenly developed acute appendicitis, and needed urgent surgery. While the surgery went well, Alesha still has a high fever and a very low white blood cell count. He is being treated with antibiotics and leukostim.
October 13, 2009. Alesha is completing the forth round of chemotherapy, and is doing well. A CT scan didn't show any regions with high uptake of contrast agent.
September, 2009. Sadly, Alesha's neuroblastoma has returned after a two-year remission. He is currently undergoing chemotherapy at a St. Petersburg hospital. Alesha has not yet requested financial assistance from the Help Journal but we are following his story closely and wish Alesha quick and full recovery. If you would like to help Alesha and his family during his current course of treatment, please visit his page on website of our sister-foundation Advita.